This is one of the most memorable Christmas season for me. A long time wish was granted and until now I can still feel the love we all shared.
I'm talking about the Feeding and Gift Giving Program our high school batch sponsored for the first time last December 18th. For those avid readers of this blog, you may have read a post about my high school reunion last month. We started planning this charity event months before the said reunion and it was a success!
But before all the excitement in a depressed area here in my city, here are some photos of me together with 2 batch officers sorting out the gifts. We went to Divisoria and bought tons of toys, at least 2000 pieces! We placed at least 4-5 items in a clear plastic and the gifts were at least for 500++ kids. There were 150++ assorted items from McDo, leftover loot bags from my 2 sons birthday party that I also brought in with me, just in case the gift bags becomes empty bags,lol..
Here are some photos from the location: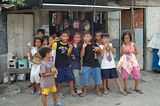 The original count was only for 500 kids but more than 800 came. All gifts and foods went kaput and at least 50 persons (moms/kids) left without anything. We got sad and told them that we will be back and will be more prepared next time.
Me, as the batch president, thanked all who came..
The officers and members of Batch '86
In the end and while driving away from the area, we cried… For most of us, this was a first and we never expected what we had seen. We cried because there were some kids who didn't get anything.. We cried because we couldn't do anything more… We cried, when we saw the kids enjoying their foods and parading their gifts..
In the end, we were all glad.. Happy that we were able to share a piece of our hearts….
We all came to a realization that we are so blessed and that we sometimes take it for granted.. It was an eye opener for all of us..
Next year, we will have another charity event.. Hope that we will be able to share more blessings..